Quite a tiring day, nonetheless some of the games are really something~~
We booked our ticket online....a 15% discount~ Still amounted to 63 dollars~~ What a terrible currency we have~ ~.~
Sci-Fi City
One of the most happening zone in Universal Studio.
The whole perimeter was not that big~~
Bumble bee~~
Kinda cool right?~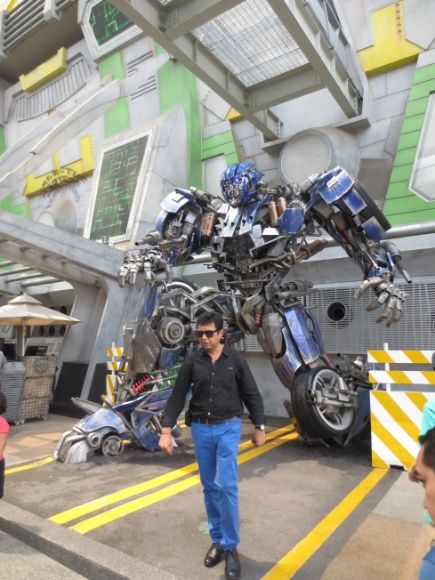 A very long queue just to take picture with the autobot~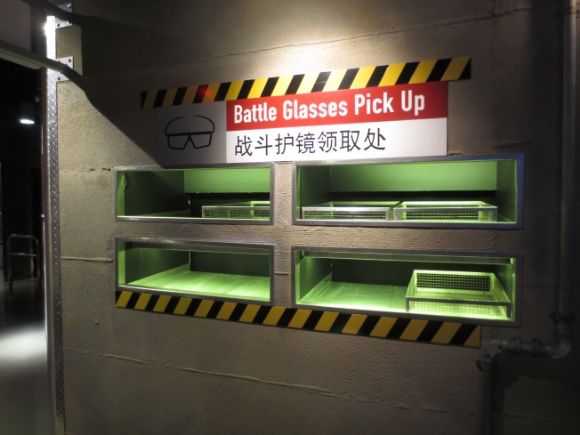 The most famous Transformer 4D.....took a total of an hour to queue for your turn~ But totally worth it! The effect was simply breathtaking.....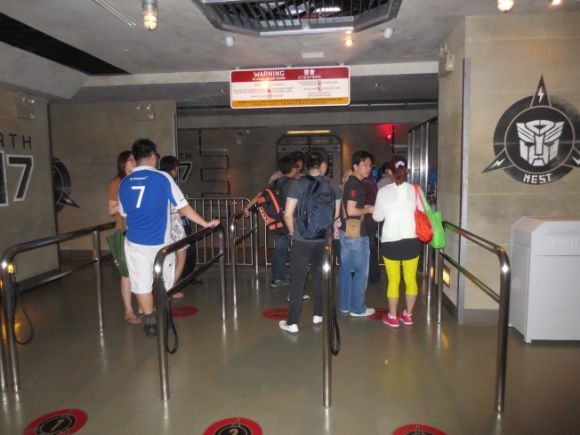 A must play and possibly the most interesting stuff around the country~
Battlestar Galactica (Human and Cyclon)....not for weak heart~
LOL~ Towards the end...we even went for this~ HA!
I must say...the architecture was totally cool!
LOL~ She just looked coolly at me when I said I wana have a picture~ Creepy~~~
But then they really take their job seriously~ not just standing there unnecessarily~
Still alot more such Army of Anubis around~
Really incredible~ They walk so stable even with the prosthesis!
Very similar to a show I watched somewhere in Thailand~
Canopy Flyer~ Took us more than 40 minutes to queue for our turn~ But the whole journey barely lasted 3 minutes~~ Quite a bummer~ Especially if you get the back seat~ Pfft~
Jurassic Park Rapid Adventure~
The crowd is just crazy~ Took more than an hour!!! As usual, the journey was less than 10 minutes~
We were forewarned~ And there were some vending machine selling rain coat for 3 dollar each~ Decided to take our chances~~
So we get on the raft along the stream, with some poorly animated dinosaur prototype~..... Just the last lap was kinda surprising, with a T-rex over head threatening to swallow everyone in the raft(Kinda funny though~) Oh ya~ we were not even slightly wet~
Once upon a time......... Yea~ its about some fairy tales~
But I think the castle was rather magical~~ Lol~
Yup~ Its shrek~
Went for a 4D show of Shrek~
While waiting to be seated~
Put on the 3D glass...get seated.....and enjoy~~
There are 2 types of seating....the moving zone and non-moving zone for parents carrying their child~~
When the donkey sneeze, the water actually splashes you~ And when spiders move pass, something brushes our feet(created quite some screaming in the hall~haha~)
Street of New York~~The main attraction is a special movie effects show by Steven Spielberg~
Queue up for Lights, camera and Action!! Watched how special effect was done in the movies~
I must say....I was amazed~
Along the Hollywood Walk Of Fame, you can see some really familiar character such as Marilyn Monroe and Woody Woodpacker~ Didn't get a chance to take picture~ Again, couldn't stand the enormous queuing crowd~
Star of John Travolta~ Ha~
Err.....I think kids might like it very much~
Having said so, the queue still took 30 minutes~
Get on the boat, and they will bring you to the story of Madagascar~(I think)
Along the stream~
Now you know why I say kids will love it~
A very tiring day~~ Some of the shows and games were really fantastic~ Still, price is a big issue~~
A rare serenity~~