Normally, tourist will tour Jin Gua Shi (Golden Pumpkin Rock) and Jiu Fen together with Yeliu Geopark. In fact, the main attraction for most people are Jiu Fen, especially those that are very keen on shopping. I on the other hand find Jiu Fen barely passable with a street full of crafts, souvenirs and foods. Nevertheless, we tour all 3 as part of the itinerary provided by our tour guide Mr. Lim.
It is very necessary for me to give a brief introduction about Mr. Lim. He is a free-lance tour guide specialized around Jiu Fen area. A very nice and warm man with reasonable fees. Our common comment would be - Great!
Jin Gua Shi used to be a mining land for gold since Japanese colonization. Perhaps thats where it gets its name "The Golden Pumpkin", which was what I thought initially. But more astutely, if you happen to be there yourselves, you will realize the true reason it was named golden pumpkin.
We took the local train to Rui Fang Train Station where Mr. Lim will be picking us
Time was still early, so we took a stroll in the early market nearby~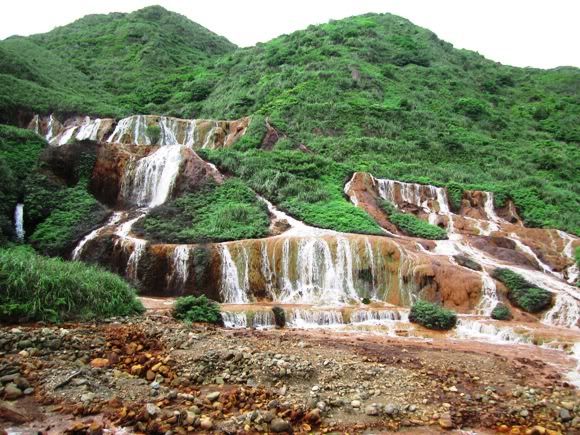 Now~ This was why it was named golden pumpkin~~~
The mixture of few minerals such as sulfur and arsenic which flow down with water colored the rocks around and gave them such golden color.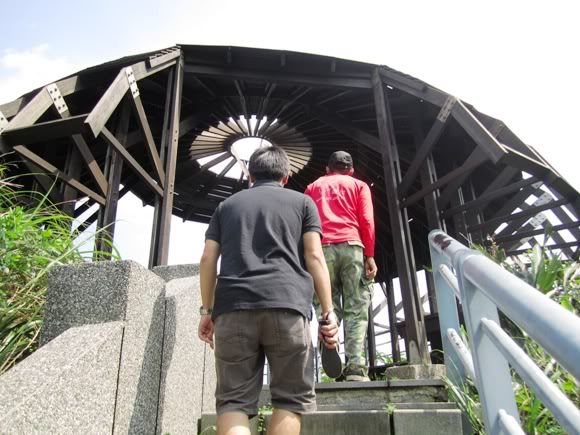 Walked up the hill to have a better look at the scenery around the area
Saw the 2 different colored sea?~ It is known as the Yin and Yang Sea(阴阳海)... As I mentioned earlier, the mining waste containing different minerals, sulfur and arsenic get drained into the sea, forming this man-made natural phenomenon~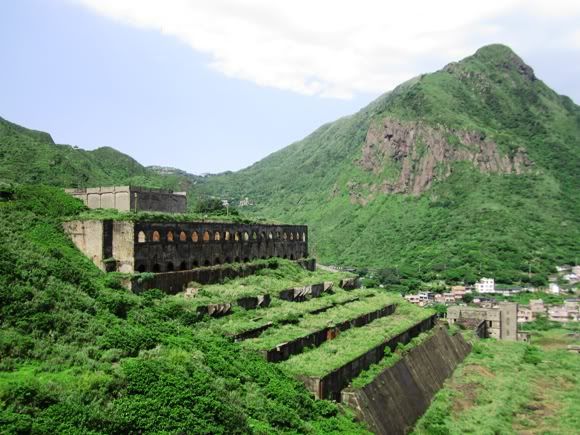 The old mining plant built by the Japanese.(十三城遗址)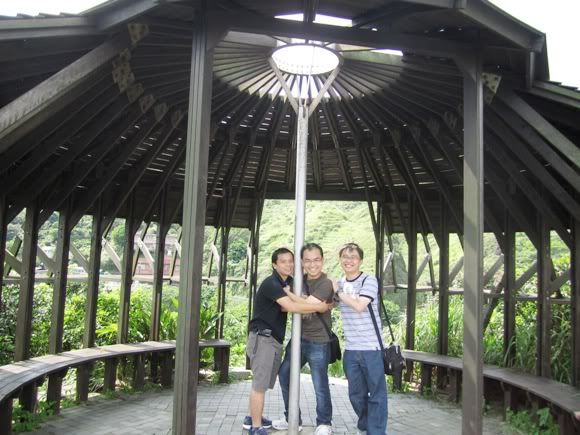 Mr. Lim is quite a humorous person, who love photography very much. One of the many things we enjoyed about this trip is his photography lesson.
From the hill top, S-shaped road~ Jiu Fen is only separated from Jin Gua Shi by a mountain(cemetery)
So, just cross the mountain, and you will reach a very small village with Jiu Fen old street.
Look carefully at all these houses, you will notice they use the railway track to stabilize their roof~
When the mining work stopped, the railway was abandoned and hence, people start picking up all the tracks for this purpose~ Smart eh?~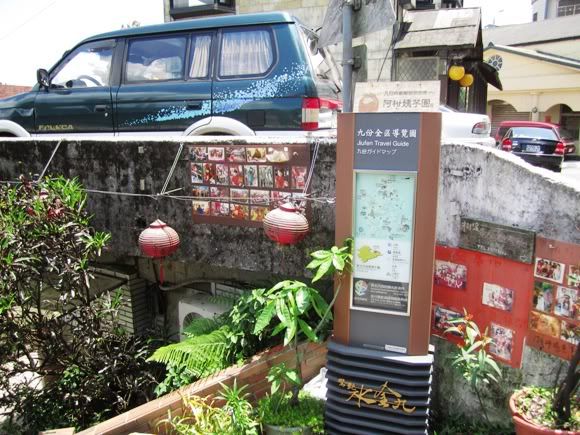 We are finally here~ The Jiu Fen old street
One of the must try delicacy
Very elastic~ Doesn't really surprise me though
Made from a kind of leaf with different fillings~
You can either choose salty, or sweet fillings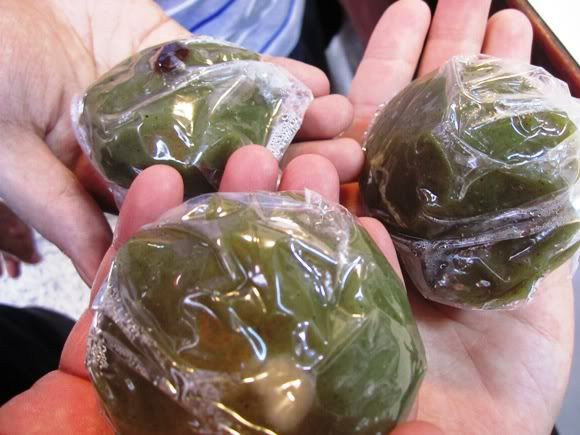 Not bad~ But abit too elastic, until it was pretty difficult to bite
红糟饭(Not sure how to translate~ha!) Quite good~ worth trying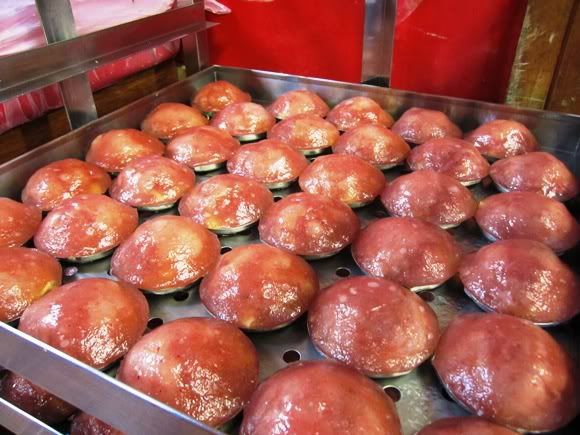 Again, very elastic covering
Don't quite like it~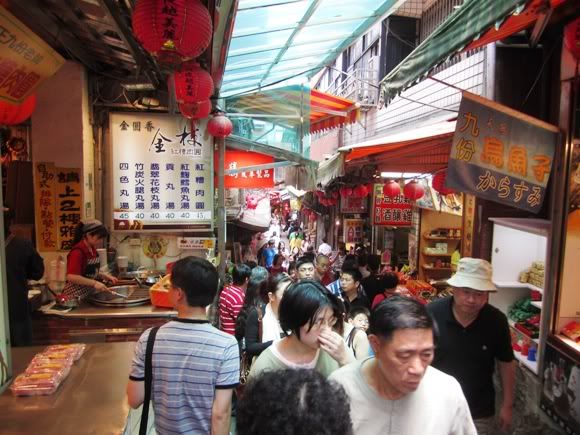 Packed with tourist all over the world(Japanese mainly~)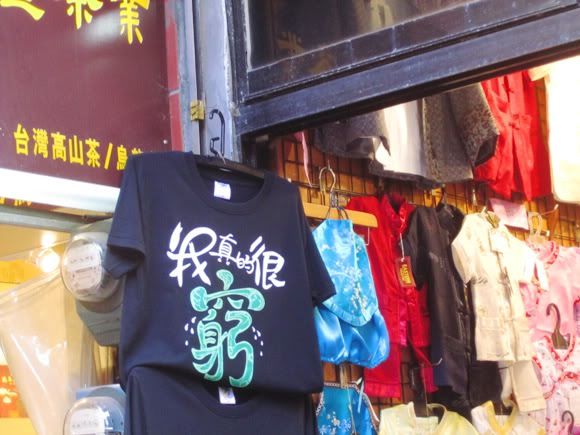 My exact feeling at the moment~(I am very poor)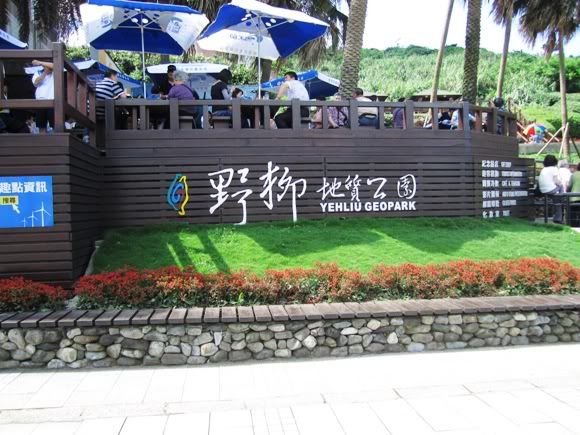 Didn't spend much time there as not really fond of the large crowd....something quite interesting about this place is that, alot of shop owner actually know how to speak Japanese.....They can converse fluently with the Japs~ Finally, we were here in Yeliu Geopark!
Taiwan used to be an underground land which surfaced due to movement of earth crust. Hence, the rocks are easily subjected to weathering, forming alot of interesting shaped rocks~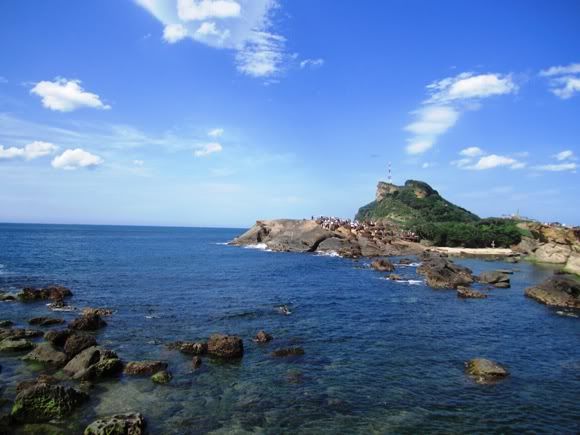 Gave a very relaxing and soothing feeling~
Look at all these shapes~
Even fossils could be found~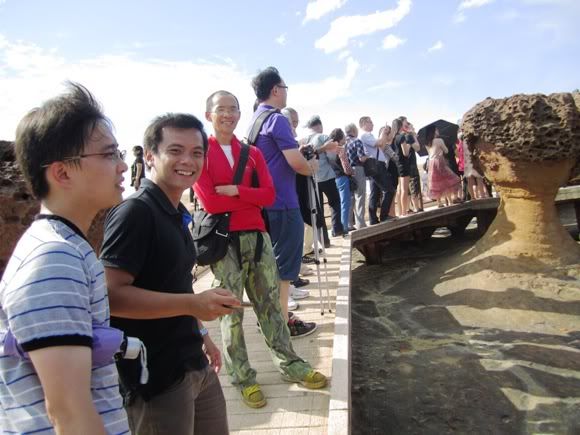 Most famous of all these weird rocks is the Queen's Head~ Look at the crowd queuing to take a picture with her~
This is how wonderful mother nature is~~~ Sadly, the head might fall off in less than 15 years time due to weathering....... and no one seems to be able to stop mother nature from its natural course......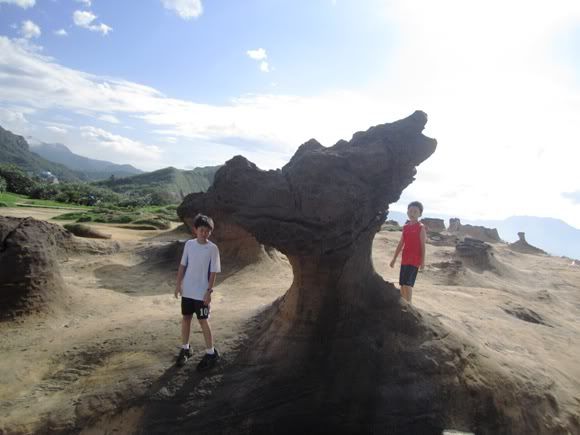 2 young kid bickering under a fan shaped rock
Climb our way to the top for better view of the whole geopark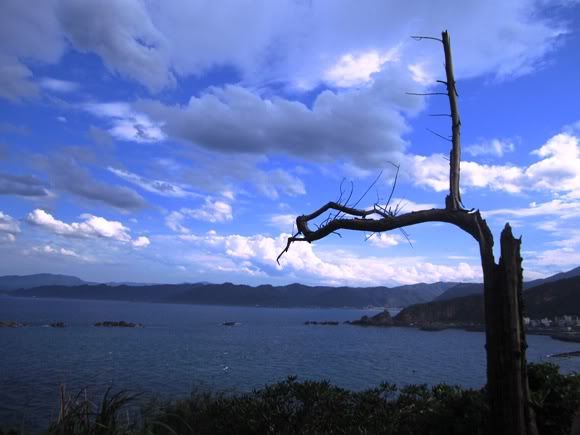 On our way, found this lonely dead wood.....creating a strong sense of loneliness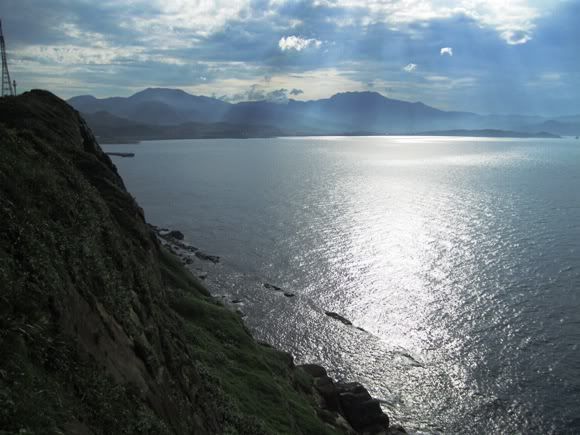 I always love beautiful scenery...this is just breathtaking~
Perhaps one day when I come back, there no longer is the Queen's Head, some other rocks might have gain fame due to its fallen.......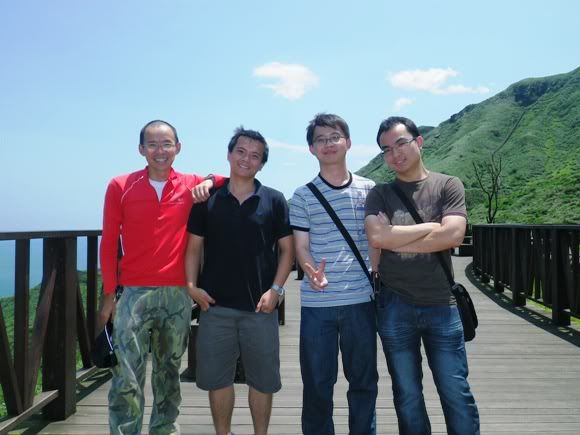 Mr. Lim the tour guide and driver ....Our trip with him ended with the Geopark...but not quite come to an end yet~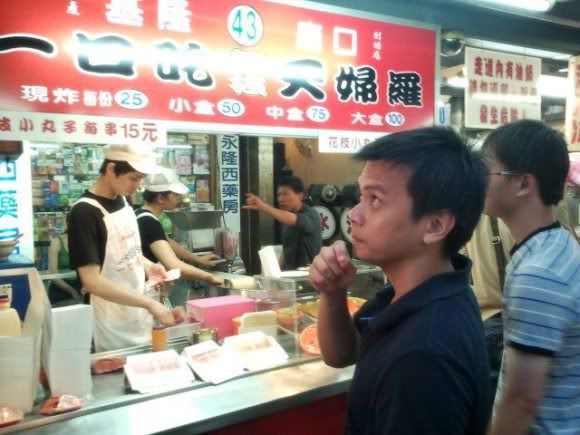 He dropped us in a nearby night market..the Keelong Night Market(基隆夜市) with a map to the nearest train station and a list of must try food! Here was our first stop~~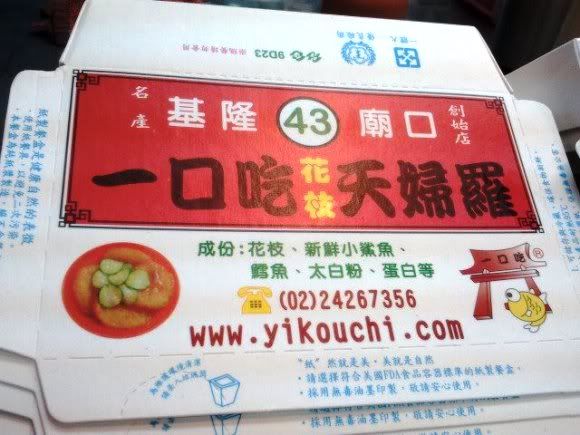 Tenpora?Tempura or tianfula?~ ha! who cares~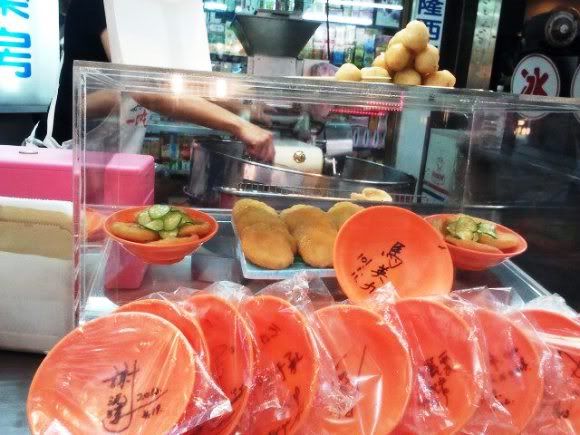 President Ma Ying Jiu was here before
So so la~
Ice cream~
Sammo Hung!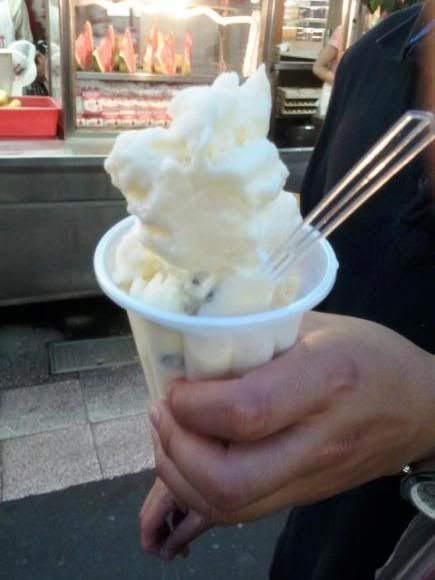 The iced was grind into very soft and small particles~~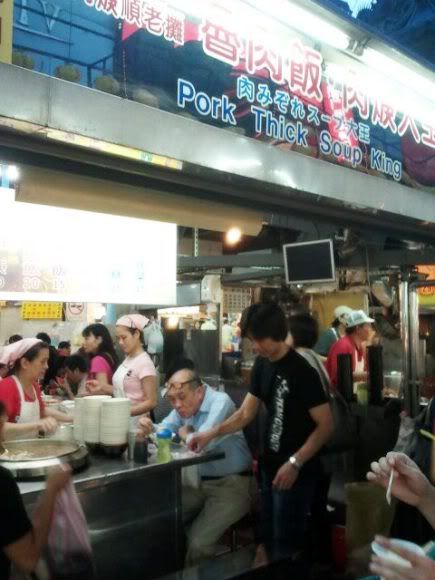 Meat rice(鲁肉饭)
Very busy due to the mass amount of customers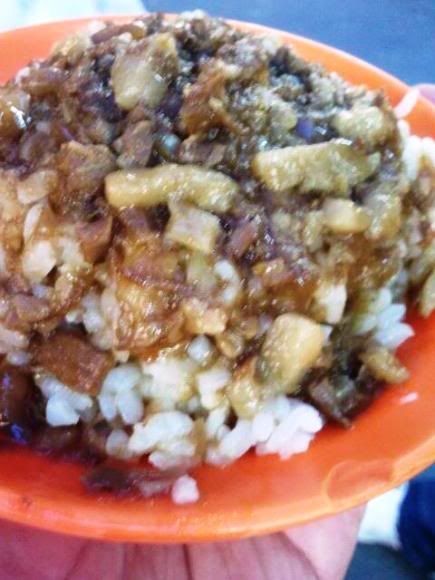 Not much different from the ordinary one we get everyday in Taiwan~ Still, one of my favorite meal in Taiwan~
Sandwhich?~
Eggs, cucumber, meat and some other materials~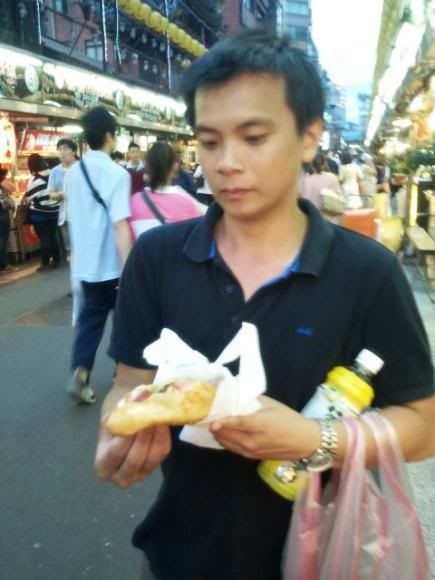 Quite nice, but you can easily get it everywhere in Taiwan.
Popia~
Acceptable~
Not much different from ours~
A famous Fookchiew delicacy~ Abit like Pan Mee....much more elastic in texture
We were walking towards this shop when the owner of another shop just opposite was shouting for us to come in~ I guess they do that everyday~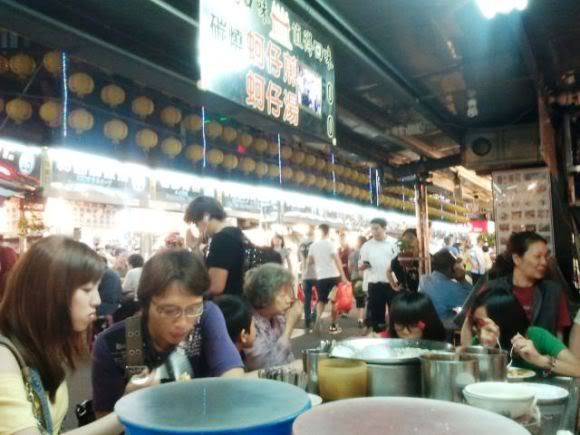 Oyster fried eggs...(蚝煎)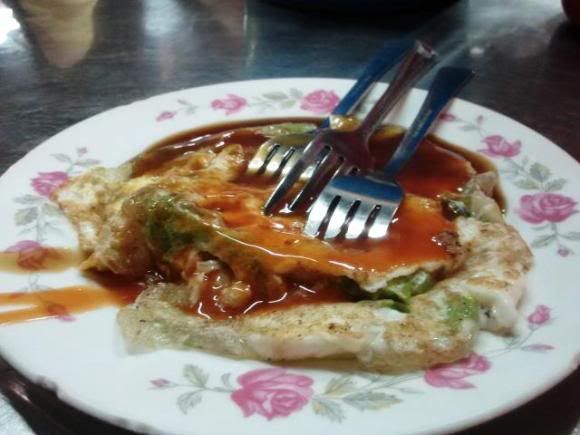 Still prefer the one I took in Sarawak ages ago~
Mission accomplished!!!! We tasted everything given on the list.....my conclusion is, over rated~ =P